Due to the current health concerns, our team may be working remotely. However, all of our projects are still proceeding as normal and we will continue to provide our usual high level of service.
struc·tur·al en·gi·neer (n.)
A person trained to apply sound scientific principles in the design and investigation of buildings, tunnels, bridges, decks, footings, swimming pools, retaining walls, foundations, underpinning, towers and other structures.
Skarda and Associates
Structural Engineers & Building Design Consultants Since 1970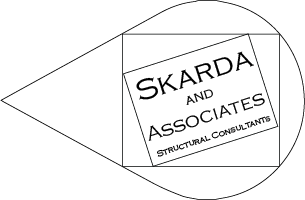 Structural Engineers
Skarda and Associates, Inc. is a Baltimore, Maryland based structural engineering firm specializing in the design, review, and analysis of both new and existing structures. Working with architects, building designers, general contractors, corporations and individual property owners, we have been providing a wide array of structural design and consulting engineering services to our clients for more than 45 years.
Engineering Consultants
In addition to traditional structural design services, our firm is frequently asked to perform other types of consulting engineering services. Skarda and Associates is able to review pre-drawn construction drawings for the purposes of proving an "engineer's seal" that meets local building code requirements; perform extensive forensic investigation services for the purposes of discovering the cause of premature or cataclysmic building failures; provide expert testimony related to construction litigation; create alternative structural design scenarios, which may result in more practical and/or more cost effective building designs; perform on-site inspections of existing, as-built conditions; and other, more specialized structural design and engineering services.
Commercial, Industrial, Residential
Experienced in the design, review and analysis of a wide range of modern and historical building types, construction materials, and methods, Skarda and Associates personnel work competently on commercial, industrial, and residential projects. We take great pride in our ability to meet the needs of our clients and we look forward to the opportunity to working with you on your next project.
Plan Review, Structural Certification, Design Solutions, Forensic Engineering, Site Inspections
In addition to reviewing building plans and certifying construction drawings, we are well known for our creative ability to design cost effect alternative design solutions, perform forensic investigation of structural failures, and evaluate existing on-site conditions.
Whether you are concerned about a small foundation crack that you don't remember seeing before or you need assurance that the fancy rooftop deck on the house you might buy is properly inspected, we are available to offer advice.
The Skarda Team of experienced building inspectors, knowledgeable staff, and highly trained professional engineers help clients resolve issues quickly and without incident in almost all situations. However, should strong disagreements between parties arise, we also provide expert structural design testimony in binding arbitration and construction litigation cases.
new construction, historic renovation, adaptive re-use, building design, onsite inspection
Project Portfolios